Employer of Excellence Accreditation
Is Your Organisation an "Employer of Excellence?"
By working with The Employment Law Group and Peninsula, the UK's leading HR and employment law consultancy, your company has the framework in place for ensuring that excellence and 'best practice' are achieved throughout the human resource management process.
Why not apply today to become an officially accredited "Employer of Excellence?"
Available exclusively to Employment Law Group and Peninsula clients, the accreditation process is included within the normal fee structure and allows the use of the prestigious quality symbols. Once it has been certified that the Peninsula systems and procedures are fully implemented and form an integral part of your management processes, recognition and accreditation may be applied for.
How will the "Employer of Excellence" accreditation help my business?
Accreditation provides a highly visible outward sign of the standards of excellence that have been achieved and are being maintaining. All of the following outcomes of accreditation are highly beneficial on their own; however the biggest benefit is on the bottom line.
High staff morale and positive company culture
Increased effectiveness in recruitment and staff retention
Public recognition as a quality organisation within your industry and community
Provides full access to prestigious quality symbols
The symbols can be displayed on company literature
No additional costs are incurred and re accreditation is a simple process
Exclusively available to our clients
Differentiates you from your competitors as an 'Employer of Choice'
Demonstrates to your staff that you are a 'best practice' organisation with competent management
You will receive the Employer of Excellence certificate to display at your premises.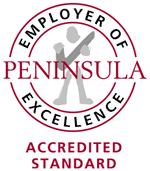 The Employer of Excellence Award offers you the
opportunity to display the accredited logo on
your company stationary.
HR for Business